Thermolite Socks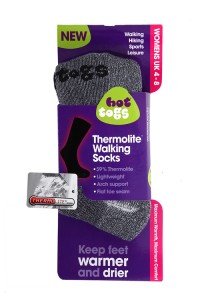 ---
---
Please note we are able to offer our socks in a UK 9-13 and a UK 6-9 size at a special reduced price of £3.99 per pair BUT they are packaged incorrectly in UK 8-12 and
UK 4-8 packaging (which is why we have reduced them in price). Please choose your size from the drop down list above.
FREE DELIVERY ON ORDERS OVER £20.00 (UK mainland only)
HOT TOGS Thermolite® Walking socks provide winter proof warmth and protection in a lightweight sock designed for a wide range of outdoor pursuits, these socks provide you with all the warmth of a thermal sock but without the bulk!
Outstanding warmth and comfort
Hollow core fibres provide built in warmth without the bulk
Arch support
Flat toe seam
Blister protection
Double loop pile stitching to lightly cushion the foot and provide extra warmth
Lightweight and breathable
Hard wearing and durable
Moisture wicking
Retains thermal properties even when wet
Quick drying
Ribbed up the length of the sock for gentle grip support and to prevent the socks from falling down inside your boots/shoes – a particularly annoying and uncomfortable situation experienced with other brands of socks!
Mid Calf Length
PERFECT FOR BOOTS/WELLIES/SHOES
IDEAL FOR ALL OUTDOOR PURSUITS
59% Thermolite® , 39% Nylon, 2% Lycra


---
---