Skiing
Winter sports are fantastic fun…providing you have the right gear! Layering up for the slopes is a great way to keep warm but the choice in which layers you wear is key. Depending on the time of year and whereabouts you are aswell as how much you feel the cold are all part of the decisions on what to layer up with.
Our warmest thermals are our Ultra Thermal leggings with the male equivalent being our Thermal base layer For Men. For a lighter weight base layer our bamboo leggings are a perfect solution, incorporating bamboo yarn which offers natural breathability and helps to regulate your body temperature these are a very popular base layer for the slopes!
The key features of all our leggings are:
– Close fit, this helps to trap warm air close to the skin and avoid cold pockets.  Our leggings fit exceptionally close which provides compression for your legs and support for your joints which is a welcome advantage for skiing and boarding.
– Stretch, with a unique 4 way stretch the leggings provide ease of movement.
– High, comfort waist band covering your kidneys and keeping your back warm and protected.
– Ankle cuffs to hold the leggings in place all day.
– Side seam free and the torso seam being flat locked it avoids any abrasion or soreness.
Hot Togs – Skiing socks
You really need a good pair of socks if you are going to be comfortable in your ski boots and our long length socks fit the bill perfectly! Designed to provide warmth and breathability whilst being lightly padded where you need it to protect your feet and shins, these socks are perfect for skiing or boarding. The thermolite yarn incorporated throughout the sock is a hollow core fibre which is very effective at moisture wicking and providing warmth without being too bulky. If socks are too bulky this can actually make your feet colder as the movment of your feet is reduced and therefore the circulation can slow down resulting in cold feet. However our socks are designed to enable full movement whilst still providing warmth. Our socks incorporate the following benefits:
– Flat toe seam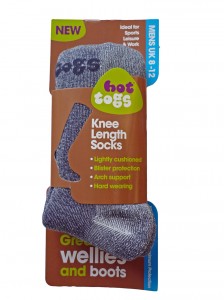 – Blister protection
– Ribbed up the length of the socks to hold them in place so they won't slip own inside your boots.
– Hard wearing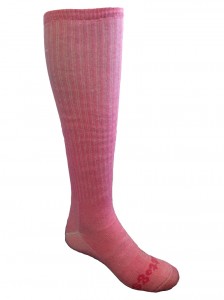 – Arch support
– Moisture wicking
– Breathable
Available in different colours and sizes, our long length socks are a must have for your next skiing holiday!