Equestrian
We are big fans of the horsey world and we are delighted to offer a solution to trying to keep warm whether it be competing or mucking out! A lot of us know that layers are the key to keeping warm, however your choice of layers will determine just how comfortable you are. From a practical point of view, being dressed in bulky clothing when you're trying to ride, bend down to pick out a hoof or put on boots makes everything much harder, however HOT TOGS offers you the solution, if you feel the cold and don't want to be restricted or uncomfortable in your clothing…then HOT TOGS are for you.
Thermal Base layers for Equestrian
You need something lightweight, wicking with a close fit, lots of stretch and without any irritating side seams….and you will get all that and more from our Ultra thermal leggings. These are the perfect thermal base layer for underneath jodhpurs and breeches, they are designed to fit like a second skin and with a huge 24% spandex content once they are on and comfortably pulled into place then they will not move around or fall down, the simply move with you, their key features are listed below:
-They fit high up on the waist to keep your lower back and kidney area warm and protected and avoiding the horrible cold rush of air felt by other leggings/base layers that so easily slip down.
– With an ankle grip support and the super close fit they are designed to allow jodhpurs/breeches to be pulled on over the top and the leggings will stay in place all day.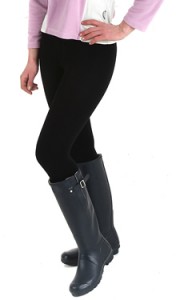 – The close fit design of the leggings provides compression to enhance your blood circulation and support your joints.
– No side seams! Our leggings are side seam free all the way down the legs so they will not rub when you are riding.
– Breathable and moisture wicking to keep you feeling fresh and comfortable.
– Featuring a cotton gussett for hygiene comfort.
If you would like a lighter weight base layer legging for all year round wear then try our bamboo leggings, they are a mid-weight legging that contain bamboo – renowned for it's natural breathability and temperature regulating properties.
Socks for equestrian
Our socks are designed to keep your feet warm and blister free! Technically designed to provide warmth without the bulk of other thermal socks then you can rest assured of warm feet that will still fit into your riding boots!
– Produced from thermolite yarn which is a hollow core fibre, the fibre itself retains the warmth and wicks moisture away from your feet to keep you warm and dry.
– Unique double loop pile stitching further enhances the thermal properties of our socks whilst also providing cushioning for your feet.
– With an arch support, flat toe seam and ribbed coming up the leg then the socks remain comfortably in place around your foot.
– Blister protection and hard wearing.
– Our warmest socks are our Thermolite walking socks, for all year round wear then choose our all season socks and for a long length sock then our knee length socks are just for you…go on, treat your feet!